Alter Ego Wide
Powder or Groomers, Choose 2
Product Zoom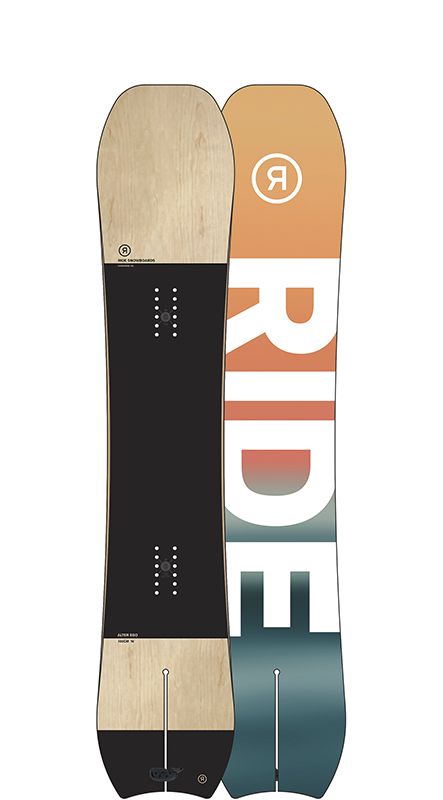 Alter Ego Wide
Powder or Groomers, Choose 2
Details
I don't want to get too serious about this snowboard, but you what…I'm sayin' it. I just don't think it's right for a snowboard to be two things! Boards are created as powder board or as boards that will perform on hardpack, and you can't go switching back and forth like some sort of SplitTailer! You can't just "surf through the deep stuff" all morning and then "rip fat carves down the groomers" all afternoon. You buy a board for ONE purpose and when get that undeniable urge to change boards, you go into the lodge and borrow a tool to mount your second choice. It's not always pretty, but that is how it's done. I propose we station good, hard-charging snowboarders to every mountain resort and we aim to expose these SplitTailers. Now if you excuse me, there's a long, perfect pipe at my local resort just begging to be ridden hard.
Riding Style:

Powder

Board Shape:

Directional

Profile:

Directional Hybrid Rocker

Response:

Medium

Sizes:

160W, 164W
Tech
Features:

Roll In Slimewalls
Carbon Slimewalls
Carbon Array 3 Laminates
Wood Veneer Topsheet
Performance Core

Thin Con

ALL RIDE boards feature Thin Construction with tapered tips and tails, reduced swing weight, enhanced tip flex and the sidewall runs past the effective edge.

Standard Edge

Rockwell 48 C.

Hybrid Glass

Triaxial on top, biaxial on base, balanced torsion and stiffness for better response with speed.

Sintered Base

High-end sintered 4000 Ptex base material that is more durable, harder and faster than extruded.

Performance™ Core

High strength Aspen is combined with Bamboo and lightweight Paulownia wood to provide the perfect balance of strong and light.

Roll In Slimewalls®

Unique 3D fiberglass structure built around our urethane Slimewall® sidewalls. Designed to increase overall board strength, prevent topsheet chipping, and reduce weight.

Carbon Slimewalls®

This totally unique sidewall combines layers of Slimewalls® material and carbon strategically placed at the inserts out to the contact points in the tip and tail on a twin, and the back inserts to the contact points in the tail on a directional board. This exclusive tech enhances the charging riders' experiences as we have moved the carbon pop construction to the outside edge for better stability and enhanced response.

Carbon Array™ Laminates

This power distribution technology provides total board control in every stance location. Widespread carbon stringers placed at the binding zone gather input from any stance width and all pressure angles. Rider input is then channeled to the opposing contact point for maximum board control. Offered in two levels of technology, 3 & 5.

Impact Plates

Added underneath each binding area to improve compressive strenth and prevent board breaks where it matters most. Offered in two levels - single and double.

Wood Veneer

Real wood birch veneer topsheet sealed with urethane for a unique look and a smooth ride.
Sizes
Alter Ego Wide Size Chart

| SIZE (cm) | EFF-EDGE (mm) | WAIST WIDTH (mm) | SIDECUT RADIUS (m) | TIP & TAIL WIDTH (mm) | INSERT LOC. BACK (mm) | REF STANCE (mm) | RIDER WEIGHT (lbs/kg) |
| --- | --- | --- | --- | --- | --- | --- | --- |
| 160 W | 1228 | 261 | 8.65 / 7.35 / 8.35 | 309 / 309 | -19 | 559 | 160-220+ / 73-95+ |
| 164 W | 1266 | 264 | 8.9 / 7.6 / 8.6 | 313 / 313 | -19 | 559 | 170-220+ / 77-100+ |