Crook Wide
Ride it Like you Stole it
Product Zoom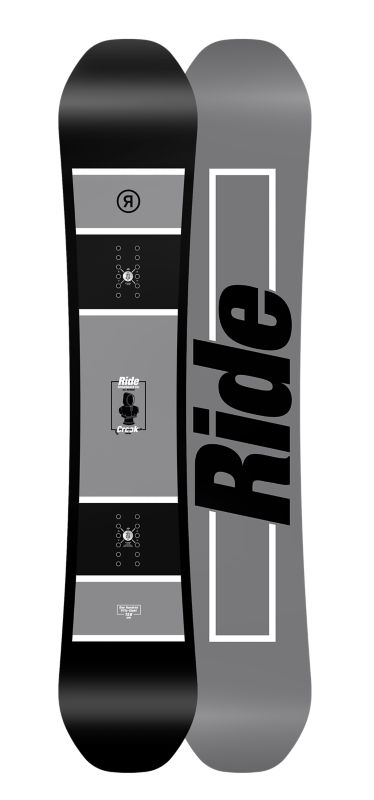 Crook Wide
Ride it Like you Stole it
Details
Whether you are finally pullin the trigger on that handrail in front of the police station or just clipping tickets in the parking lot of your local resort, the Crook is there to remind you that it's only illegal if you get caught. With a twin rocker shape, and Slimewalls to provide high-speed vibration damping, this soft-flexing deck will maintain its stability as you point it toward the big jump lineor cruise to the rail section. Similar to you and your buddies, if you get caught hitting that epic police station handrail, the Crook will take a serious beating.
Riding Style:

Park

Board Shape:

Twin

Profile:

Twin Rocker

Response:

Mellow

Sizes:

154W, 159W
Tech
Features:

Roll In Slimewalls
Single Impact Plate
Carbon Array 3 Laminates
Hybrid Glass
Performance Core

Thin Con

ALL RIDE boards feature Thin Construction with tapered tips and tails, reduced swing weight, enhanced tip flex and the sidewall runs past the effective edge.

Standard Edge

Rockwell 48 C.

Biaxial Glass

90° and 0° angles, fun and forgiving.

Extruded Base

The industry standard extruded 1500 Ptex base material. Good wax absorbtion and easy to repair.

Foundation™ Core

Tip-to-tail Aspen wood core with proven durability that retains pop and flex.

Slimewalls®

RIDE's exclusive Slimewalls® are forgiving and ductile, absorbing impacts rather than defending against them. Just like your skate wheels, the urethane in Slimewalls® smoothes the interaction with the snow, wood or metal surfaces you may RIDE on. On top of all that, these babies are virtually indestructible, the most durable sidewalls in snowboarding.

Roll In Slimewalls®

Unique 3D fiberglass structure built around our urethane Slimewall® sidewalls. Designed to increase overall board strength, prevent topsheet chipping, and reduce weight.

Impact Plates

Added underneath each binding area to improve compressive strenth and prevent board breaks where it matters most. Offered in two levels - single and double.

Standard Top Sheet

Durable topsheet with graphics only RIDE can bring you.
Sizes
Crook Wide Size Chart

| SIZE (cm) | EFF-EDGE (mm) | WAIST WIDTH (mm) | SIDECUT RADIUS (m) | TIP & TAIL WIDTH (mm) | INSERT LOC. BACK (mm) | REF STANCE (mm) | RIDER WEIGHT (lbs/kg) |
| --- | --- | --- | --- | --- | --- | --- | --- |
| 154 W | 1203 | 260 | 9.7 / 7.2 / 9.7 | 305 / 305 | 0 | 559 | 125-175 / 57-80 |
| 159 W | 1228 | 261 | 9.8 / 7.3 / 9.8 | 308 / 308 | 0 | 559 | 150-220+ / 68-91+ |