Warpig
Your new favorite pork sword
Product Zoom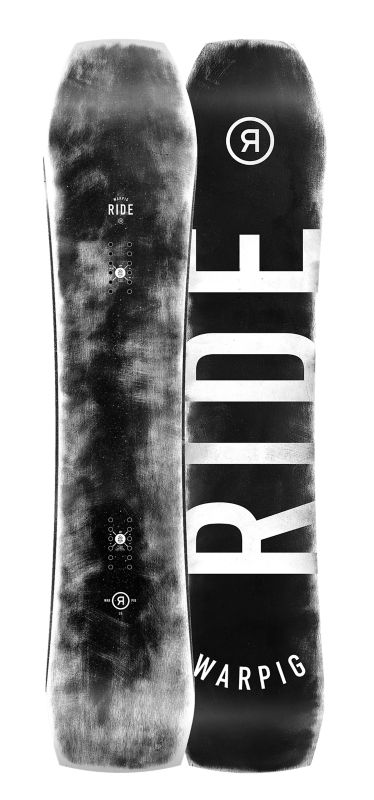 Warpig
Your new favorite pork sword
Details
The Warpig returns this year with the addition of a new smaller shape and a Snowboard World Championship title thanks to RIDE Global AM, Brandon Davis. This board is designed for fun in all conditions with a unique shape that is shorter, wider, and tapered to allow for a more maneuverable snowboard that can lap the park and still float you like a board twice the size. This deck doesn't stop with an innovative new shape, we've also included our Roll-In Slimewalls, Cleave Edge, and Carbon Array 3 to give this deck plenty of pop while keeping it responsive and durable. This season we've added an all-new size in the XS Warpig, which is perfect for ladies and gentlemen who understand it's not the size of the wand, but how you work your magic. The Warpig is a fun and fast all-mountain slayer that will quickly become your new favorite pork sword.
Riding Style:

Groomers

Board Shape:

Directional

Profile:

Directional Rocker

Response:

Medium

Sizes:

XS, S, L
Tech
Features:

Roll In Slimewalls
Double Impact Plates
Carbon Array 3 Laminates
Topless Construction
Performance Core

Thin Con

ALL RIDE boards feature Thin Construction with tapered tips and tails, reduced swing weight, enhanced tip flex and the sidewall runs past the effective edge.

Cleave Edge™ Steel

Nearly 50% more steel, delivers unmatched resistance to edge cracking and can be detuned to larger radii.

Hybrid Glass

Triaxial on top, biaxial on base, balanced torsion and stiffness for better response with speed.

Sintered Base

High-end sintered 4000 Ptex base material that is more durable, harder and faster than extruded.

Performance™ Core

High strength Aspen is combined with Bamboo and lightweight Paulownia wood to provide the perfect balance of strong and light.

Slimewalls®

RIDE's exclusive Slimewalls® are forgiving and ductile, absorbing impacts rather than defending against them. Just like your skate wheels, the urethane in Slimewalls® smoothes the interaction with the snow, wood or metal surfaces you may RIDE on. On top of all that, these babies are virtually indestructible, the most durable sidewalls in snowboarding.

Roll In Slimewalls®

Unique 3D fiberglass structure built around our urethane Slimewall® sidewalls. Designed to increase overall board strength, prevent topsheet chipping, and reduce weight.

Carbon Array™ Laminates

This power distribution technology provides total board control in every stance location. Widespread carbon stringers placed at the binding zone gather input from any stance width and all pressure angles. Rider input is then channeled to the opposing contact point for maximum board control. Offered in two levels of technology, 3 & 5.

Impact Plates

Added underneath each binding area to improve compressive strenth and prevent board breaks where it matters most. Offered in two levels - single and double.

Topless Construction

By transferring graphics directly to the fiberglass, Topless Construction removes the need to have any topsheet material. This process improves overall durability and reduces weight.
Sizes
Warpig Size Chart

| SIZE (cm) | EFF-EDGE (mm) | WAIST WIDTH (mm) | SIDECUT RADIUS (m) | TIP & TAIL WIDTH (mm) | INSERT LOC. BACK (mm) | REF STANCE (mm) | RIDER WEIGHT (lbs/kg) |
| --- | --- | --- | --- | --- | --- | --- | --- |
| X-SMALL | 1044 | 250 | 4.6 / 5.6 | 301 / 291 | 0 | 483 | 60-130 / 27-59 |
| SMALL | 1095 | 260 | 5.1 / 6.2 | 311 / 301 | 0 | 533 | 100-175 / 45-79 |
| LARGE | 1146 | 270 | 5.6 / 6.9 | 321 / 311 | 0 | 559 | 140-200 / 63-90 |