Fuse
Vote Fuse For President
Product Zoom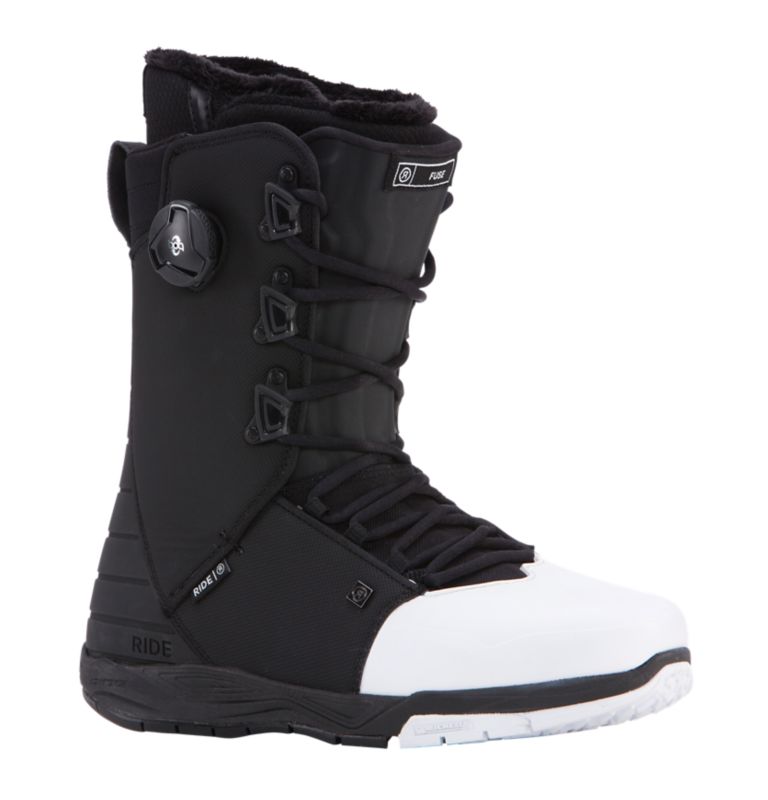 Fuse
Vote Fuse For President
Details
Fuse for 17/18 Winter Season! A vote for the Fuse is a vote for the traditional lacing values passed down to us by our forefathers. We understand that you don't need some snowboard company telling you how consistently tight your boot should be. Keep Big Snowboard out of your sole! Traditional laces on the shell of the Fuse provide you the FREEDOM to apply the pressure where you need it. A wrap liner and Slime Tongue build a wall around your foot to keep it securely in place while reducing pressure pints and chatter. Then our Tongue-Tied(TM) Closure System gives your the ability to make on-the-fly international liner adjustments with a spin of the dial to carpet bomb heel lift into oblivion. Read our lips, The Fuse promises Intuition Mobile Foam liners for the best in heat moldable fit and support and a Michelin Summit Sole for unmatched traction on snow and ice. The RIDE Team campaigns hard for the Fuse, so let's make boot laces great again!


Feel

7

Sizes:

7, 8, 8.5, 9, 9.5, 10, 10.5, 11, 11.5, 12, 13
Tech
Features:

Strong Team Backing
Tongue Tied
Slime Tongue

Wrap Liner

Builds additional stability and life into the liner. Creates seamless comfort combined with tongue tied system.

External J Bars

Superior ankle and heel hold with added support.

Cored Ankle Pockets

Cored Ankle Pockets are an added liner feature to provide an anatomically correct fit for ultimate heel hold.

Intuition Mobile Foam Liner

Dual-density foam creates performance with freedom of movement.

Impacto™ Insole

Multi-density insole with and added support structure and impact element in the heel for cush landings and all day comfort.

MICHELIN® Summit Sole

This sole is a durable blend of Michelin® rubber and phylon that makes for a super lightweight performance sole.

Tongue Tied™ Lacing

This RIDE specific technology offers a secure fit in the ankle zone and eliminates the need for a traditional harness. The tongue integrated Boa® guides connect to a side mount reel to provide total tongue closure and next level heel hold without the potential pressure points. Depending on the model, Tongue Tied™ is paired with traditional lace, Boa® Focus or Boa® Coiler Closure Systems.
Sizes